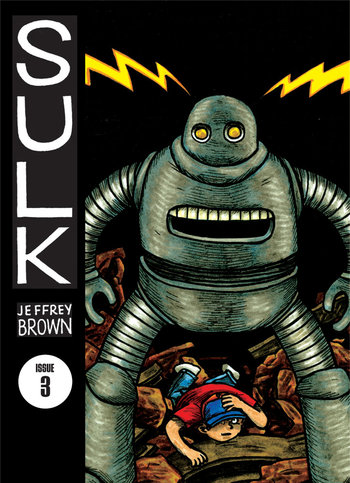 You don't really need me to tell you this, but here's the cover to

Sulk #3
I am a huge fan of the anthology format. From horror-comic staples like Creepy (recently resurrected by Dark Horse) to Fantagraphics' multiple-creator showcases Mome and Zero Zero, I can't help but gravitate towards a succession of short self-contained narratives assembled under a (usually) completely arbitrary umbrella. I can't help it; I'm a sucker for anthologies. I think that something about the tidy definitive construction of "one-and-its-done" stories back-to-back appeals to the obsessive Lego-building, comic-hoarding child within me.
Anyway, that's really the basis for another article.
Sulk is an anthology of material by Ignatz Award-winner Jeffrey Brown. Career-wise, Brown is known for alternating between intimate tales of autobiographical humility (Little Things) and left-field genre pastiche/parody/homage (Incredible Change-Bots), the unifying aspect in his work being an idiosyncratic lo-fi visual style and measured approach to dialogue. Defined by a busy minimalism, his comics are ostensibly doodle-like whilst exhibiting a keen sense of composition and rhythm. Appropriately, given their compressed format (approx. 12x17cm, featuring between 64 and 96 pages), the stories in Sulk are nothing if not concise, and, like most good short fiction, waste nothing in their construction. Every panel and word is valuable, and consequently, it's difficult not to feel absorbed whilst reading it.
From Sulk # 3
On Brown's scale of heartfelt confessionals and comedy, Sulk is very much in the latter camp, featuring (for the most part) short humour pieces spread over the course of an issue. The first issue focuses on the universe of his signature character, superhero dismantlement "Bighead" (and his league of misfit super-friends and enemies); the third presents a mix of characters and stories including (but not limited to) drug-experimenting astronauts, confrontational deer, an ultra-violent imaginary robot friend, an ersatz-Godzilla and affectionate lampooning of the fantasy genre.

Although it seems strange to say this in an article about a comic that contains a super-villain named "Beefy Hipster", it is clear that Brown understands subtlety. Bear with me, here; what I mean to say is that he never goes "too far". His parodies are especially thought-out, and never rely on cheap non-sequitur gags or tired juxtaposition. He treats the subjects of his spoofing with a care and understanding that celebrates just as much as it denigrates. The detail inherent in Bighead especially makes it obvious that this is a guy, who at one point (at least), seriously loved the superhero genre. In fact, Brown recently produced a Fantastic Four takeoff for Marvel Knights' excellent Strange Tales series/ "indie" talent showcase.
Brown's superhero dismantlement: Bighead and friends in action, from Sulk #1
This attention to finer details shines through in the issue-long piece
Deadly Awesome
. Spanning the entirety of issue 2, it tells the bell-to-bell story of a televised Mixed Martial Arts match. Being a fan of MMA personally, it became immediately obvious that Brown had taken great care to so accurately portray the techniques and presentation of the sport.
Although I wouldn't like to claim to know an author's sources for pastiche,
Deadly Awesome
combines the overblown clichés of American MMA broadcasts with what certainly appears to be a recreation of Japanese combat-sport manga (such as influential boxing drama
Hajime no Ippo
). Again, here subtleties of Brown's humour are seen again: The physical action between fighters is played straight (actually showing a fairly accurate portrayal of a UFC-style bout) whilst most of the laughs come from the hyperbolic narration and internal monologues of the characters.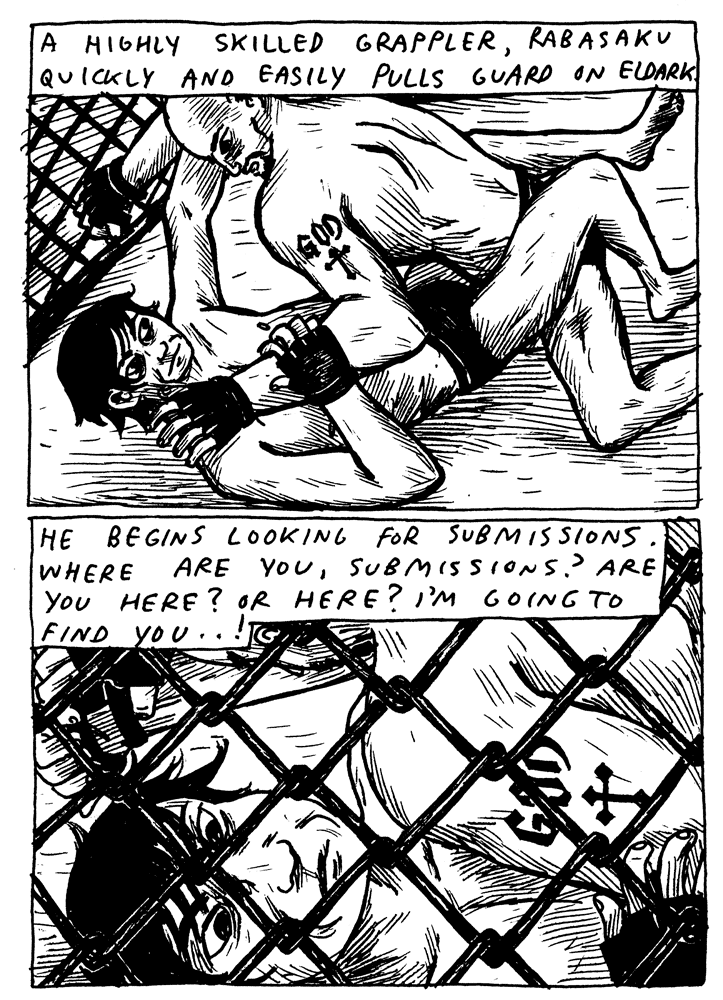 Sulk Issue 2: Deadly Awesome (picture from Top Shelf's preview section)
Although I must admit that
Deadly Awesome
is my favourite
Sulk
story so far, I would be doing the other issues an injustice to recommend it over them. In my opinion, there isn't a bad moment across the 224 pages that comprise issues 1-3. Surely any sensible person would just go ahead and order all three from Top Shelf's website (or just badger their local comic book store)?
Until next time, keep avoiding the future.
PS: If you're still not sold on it, how can you refuse a book that contains the greatest single-page in comics history?
Post-script (February 3rd, 2009)
:
Jeffrey Brown was kind enough to reply to an email from us, and stated that, although he did have in mind the idea of how manga stretches out time during fight sequences, fight-genre manga like
Hajime no Ippo
was not a direct influence on
Deadly Awesome
. He offered the following insight on the way comics convey the passage of time:
"... My initial idea was just wanting to do an 80 page fight scene, and I did have in mind the idea of how manga stretches out time like that, I guess in contrast to how I usually compress everything. Actually, I think
Love & Rockets
is the anti-manga in that sense, how they'll have pages that cover years of time passing from one panel to the next..."
Much gratitude to Mr Brown for his correspondence! –Team ATF
LINKS