© Idha Lindhag
Ok, before we get down to business, the first thing that we want to say about Mats Jonsson is that he should be made the patron-saint of bloggers everywhere. For those not paying attention, this week, Team Avoid the Future have been hard-at-work, interviewing the creators behind the upcoming titles in Top Shelf's Swedish Invasion line. Being a busy guy (he's the editor of Galago as well as a comic creator in his own right), we agreed to conduct our interview with Mats via email. The result being that, pretty much, he did all the work for us.

Mats has provided us with a great in-depth interview, in which he details (amongst other things) his upcoming English-language book Hey Princess, his thoughts on the Autobiographical genre of comics, the method behind his own writing, his development as a cartoonist, the role of music in his work and his thoughts on the future of comic books in the digital era. Enjoy!
As the Editor of Galago and the author of four graphic novels, you are an influential member of the Swedish comic community. In 2008, your work gained exposure in America via the anthology From the Shadow of the Northern Lights. How do you feel about Hey Princess, a piece entirely your own, being published in the English-speaking market?
I'm pleased, I'm proud and I'm a little bit nervous. I've never even dared to dream about having my comics published abroad; I've always thought that they are too deeply rooted in Swedish culture, with all the references to Swedish music and popular culture. Now I've started to believe that the local color actually might be a selling point for the book - the stories I tell, with all their grievances and moments of happiness, are easily understood by everyone, everywhere, but the Swedish setting makes them unique. I got some positive feedback for the story in Northern Lights, so I dare hope that people will like the book. Another important thing to me is that the cartoonists that influenced me, and the artists I admire, now will be able to read my work.
Who were your initial influences as a creator? Who influences you now?
Galago
made me discover that comics could be more than just superheroes or "funny" four panel gags, but early on I was just as influenced by the American underground artists that were published in the Swedish magazine
Pox
. Crumb, Kominsky, Spiegelman, Peter Bagge, Phoebe Gloeckner and Rick Geary were major influences. A few years later I fell absolutely in love with the works of Joe Matt, Julie Doucet, Chester Brown and Seth, and I don't think I'll ever enjoy any comic as much as the first six issues of
Peepshow
. I learned a lot from Joe Matt; that total honesty is an unstoppable force that can make your work irresistible to readers, but at the same time may ruin your personal life. The discovery of
Peepshow
made me much more daring, and raised my ambition as an autobiographical cartoonist, from merely telling amusing anecdotes to start questioning my own behaviour and my choices in life.
My favourite cartoonists at the moment are David Heatley and Anders Nilsen, and I think you'll be able to spot some influence from them in my upcoming work. I'm also extremely impressed with Alison Bechdel's
Fun Home
. It might be the finest piece of storytelling I've ever encountered, in any medium.
First encounter with "The Bunker"
Hey Princess collects a wide range of stories and anecdotes from your time as a teenager all the way through to your career at Galago. What made you decide to start making autobiographical cartoons?
The first comic I ever made was called something like The Splendid Ratt Familly ("Dän tjusia råt familjän", in Swedish), and I was four years old. It was a fable about a boy mouse who lifts up a nice vase of flowers and accidentally spills some water on the floor, for which he is later punished by the mother mouse. The story ends with the little mouse crying. This is, of course, a cleverly disguised autobiographical story. After this, my comics quickly deteriorated, and for almost a decade I made small comic books about knights and trolls, space battles, and superheroes (like the infamous Rabbitman, who got the proportional strength of a long-eared rodent after being bitten by a rabbit contaminated by radioactive fallout from Chernobyl).
My father was, on one hand, supportive of my efforts, but on the other hand he was a harsh critic who urged me to find something of my own to write and draw about. "What you're doing is crap, anyone could do it!" I had no idea of what to do to please him, but then - at 14 - I started reading
Galago
, and it was like an epiphany. Especially the
Klas Katt
comics by
Gunnar Lundkvist
(published in French by l'Association), they were dark, badly drawn (at least I thought so at the time) and all about the boring life of an angst-ridden car in Hell City.
As luck would have it, I didn't just try to draw my own version of Klas Katt or other comics in Galago, but instead I took the attitude from those cartoonists and used it to make my first comics about myself, my own life as a bullied, bookish teenage boy in a neck of the woods. My father loved these stories, as did my friends and fellow young cartoonists. At this time I thought I had invented autobiographic comics, but soon I discovered that I was working in a tradition.
Do you see the book more as a diary or a memoir?
I see it as a memoir. I've never kept a diary, and I actually think it's a good idea to wait a few years before you make a story out of your experiences. I tend to see life as a series of phases, for example there was the "
Hey Princess
phase" of my life, and I had to leave it (by moving in together with my girlfiend) before I could start to depict it in a graphic novel. I tried doing some stories about it earlier, before I met Victoria, but they were rather horrible - too bitter, too pretentious, too much
Sturm und Drang
. I needed to distance myself from the events to see the big picture.
You seem to be unafraid of detailing any event, regardless of how embarrassing it may be. How important is presenting events honestly?
Extremely important - in a way. Earlier in my career I sometimes focused on retelling the minutiae of day to day-life to create a feeling of reality, and I believed truthfulness itself to be more important than telling a good story. With Hey Princess, and even more in my later works, that changed. It's still autobiography, but I leave out more of the boring parts and concentrate on creating a story that's based on my true experiences, rather than putting my experiences together in a sequence and hope that it'll work as a story. I studied film for a while, and learned a lot about the basics of storytelling. (I learned a lot about pacing as well, something that's now all-important to me in whatever I do - drawing comics or writing short stories or articles.)



You can say that I've given up on finding some sort of "absolute truth", and now treat my stories as adaptations of my own experiences into another medium. It's a lot like adapting a novel to a movie - you have to concentrate on a main storyline, scrap some sidestories, leave out, or merge, a few characters and perhaps create a new one. But of course I always try to stay true to what actually happened. By the way, a funny thing happened when I wrote the screenplay for a movie version of Hey Princess - it was an adaptation of an adaptation, so to say, and when finished I suddenly realized that in many ways the screenplay was closer to what really happened than the original graphic novel! I don't know if I have evolved as a writer, or perhaps it's the distance in years to the subject matter that made it possible for me to see things more clearly.
About detailing embarrassing events: It's partly to make the stories more entertaining, partly because it's my deeply rooted belief that in order to make autobiograhy into art, you have to be hardest on yourself. At least in Sweden, the genre has been dominated by self-proclaimed victims who go on and on about how stupid people are, and themselves being mistreated and misunderstood. I think that's bad art, you have to put yourself - your pride, your vanity - on the line to make the best of it.

Can you us more about your screenplay for a movie adaptation of Hey Princess?

If you wonder: A major Swedish film company bought the movie rights for Hey Princess a couple of years ago, I wrote the screenplay but the project was canned before going into production when the company got a new president who prefered to focus on sequels to family oriented blockbusters from the 80s. I'm now negotiating with another production company.



Music plays a significant role throughout Hey Princess. Bands, concerts, festivals and songs feature in almost every story. Do you consider it to be a theme of your work?
One of the things that struck me when I discovered Galago was that it was firmly rooted in the alternative culture of that time, the late eighties. Every black-clad youth in Sweden seemed to read it, and I gained a lot of respect among friends when I started contributing to the magazine in the early nineties. They were in bands, I was in Galago. Music was an important part of my life, hearing Big Black or Sonic Youth on the radio for the first time, ordering the albums, hanging out at our local smalltown record store, arranging gigs... of course it had to feature prominently in my early autobio comics. And it went on that way, with references to song titles in the titles of my stories, making fun of goth culture, falling in love at a rock festival... in many ways, that was my youth.
Later on, I found out that people really enjoyed it, even the goths loved to be made fun of, and all the music references were a way for people to discover my work, and the other way around, people discovered bands through my comics. When I started working on Hey Princess, I set out to chronicle the Stockholm indie scene in the second half of the nineties, and it led to my breakthrough as a cartoonist. People love reading about it. My next graphic novel, The Boy in the Wilderness ("Pojken i skogen"), was about my childhood and contained no musical references at all except maybe a few nursery rhymes, and it didn't sell as many copies as Hey Princess, not by far.
By the way, the title of the book is actually the name of a song by iconic Swedish indie band
Popsicle
:
Regarding music: tell us about the DJ character, Marcus Gerdin.
I first met "Marcus" (it's not his real name) at university when both of us were studying film. My grudge against him started when he tried to pick up "The Bunker", the girl I was in love with at the time, and matters only got worse when I realized a couple of months later that another girl I was interested in actually was in love with him. I started bumping into him all the time, at clubs, parties, concerts and festivals - he was always nice and friendly, but in secret I started hating him. About a year later, I was happily in love for the first time in my life and Marcus told my girlfiend to dump me, 'cause he was much better looking. She didn't, but then he became my nemesis. When I started working on
Hey Princess
I included him in the stories to get back at him, but soon I realized two things: 1) he was perfect as a symbol for everything I hated in the hip, shallow indie culture in the 90s, and 2) he was born to be a cartoon character. I LOVED drawing him, and I still do. When the book came out, Marcus had become a local celebrity, one of the most established DJs and club fixers in Stockholm, and I feared that people would think that I was nothing more than an envious wannabe trying to bring him down. However, he had also made quite a few enemies - I guess it might have had something to do with his libido - and I was hailed as more of a truthsayer, eye opener and whistleblower. I almost felt sorry for the guy.
"The inimitable Marcus Gerdin in : "Scratch n' Sniff" "

What are your thoughts on Top Shelf's "Swedish Invasion" event?
Of course I'm very excited about it - I'm very thankful to the guys at Top Shelf for not only publishing our books, but also investing a great deal of effort in marketing them and creating a trademark, so to say. I'm really looking forward to coming to
MoCCA
in New York and
C2E2
in Chicago and meeting the American comics community again. At the C2E2 party I plan to do my spoken word routine in English for the first time, and I'm already nervous enough to throw up. The events in NYC and Chicago will also be something of a climax for
Galago
's project to market Swedish comics abroad. My colleague Johannes Klenell at
Galago
has done a great job the last few years, it was he who started the project and first contacted Chris Staros at Top Shelf and invited him to the SPX festival in Stockholm 2007. That's when the snowball started rolling.
What are your current projects?
This spring, I'm on leave from Galago to get started on my next graphic novel. The working title is Not Forever and it's a direct sequel to Hey Princess. The story begins in 1999, when I've just met my future wife Victoria, and the first chapter (which I'm working on now) is about the first years of our relationship, the ups and downs and how I'm coping with adult life. The two following chapters are all about becoming a parent, the happiness, the strain on our relationship and how parenthood makes your life change completely.

- Here, I had to take a three hour break to take my daughter to the hospital, she put a small piece of amber inside her nose, she panicked and I couldn't get it out. -

Well, anyway, I read quite a few terrible, deeply disturbing books written by media hipsters about becoming a parent during Victoria's pregnancy, so I think it's about time that someone steps in and tells the truth.
Finally, as the editor of Galago, we'd like to ask your opinion on the future of the comics industry. What do you think about the hype surrounding the potential of devices like Apple's iPad for delivering comics digitally? Do you think that print media will eventually come to an end?
It's an interesting question. I recently applied for a government grant to adapt
Hey Princess
for iPhone - a friend of mine develops iPhone applications for companies like IKEA and he's a fan of
Galago
, so I hope that we together can build a great interface for graphic novels on digital devices, that can be used as a platform for more
Galago
books in the future. But I don't know, iPad and its built-in bookstore might do for books what iPod and iTunes did for music, or it could be a complete fiasco. I do prefer to read comics on paper, but who knows? The iPad seems to be perfect for comics, and in any case it HAS to be better than reading from pdf:s on your personal computer or jpg:s in your web browser. My guess is that digital comics and printed comics will co-exist for a long, long time. I see my own iPhone project mainly as an experiment, and as a marketing device for my books, a way to reach a new audience.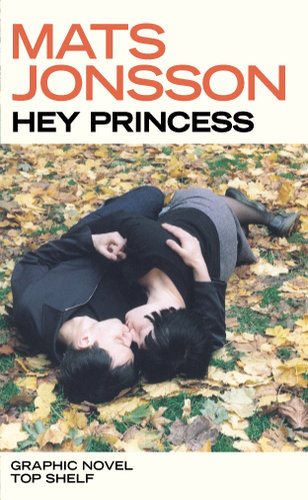 Once again, a huge 'thank you' goes to Mats' for taking the time to answer our questions so precisely. His autobiographical comic, Hey Princess, is currently available for pre-order via Top Shelf's website (as always, linked below) and your local comic book store (Diamond code: FEB10-1094).

Next week, we'll be posting a detailed preview of Hey Princess, as well as the other two upcoming Swedish Invasion graphic novels. Stay tuned for those!
LINKS