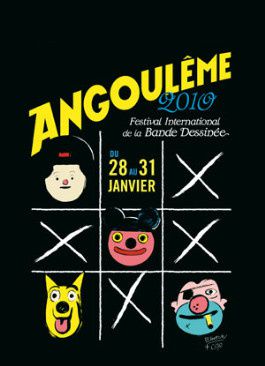 The official poster designed by Blutch.
From the 28th until the 31st of January, Bande Dessinée madness will rule the city in south-western France. Over 100 artists, writers and editors will meet to share their work with around 200,000 visitors, while the jury (under the presidency of last year's Grand Prix winner, Blutch) will be busy sorting out the recipients of the 10 fauves d'Angoulême.
The award itself. We want one.
Some of the favourites amongst the
58
'albums' in competition this year:
Eightball
(Daniel Clowes),
Blast
(Manu Larcenet),
George Sprott
(Seth),
Paul à Québec
(Michel Rabagliati),
Misery Loves Comedy
(Ivan Brunetti),
Alpha... Directions
(Jens Harder),
Aujourd'hui n'existe pas
(ANCCO),
Dix petits insectes
(Vincent Pianina et Davide Cali),
The Book of Genesis
(Robert Crumb),
Kinky et Cosy, l'intégrale
(Nix),
Rébétiko
(David Prudhomme), along with many others.
Also, if you're lucky enough to be traveling there, you may have the chance to meet the following guest star-cartoonists: Joe Sacco (
Footnotes from Gaza
), Dash Shaw, David Heatley, Kevin O'Neill, Enki Bilal, Seiichi Hayashi, Floc'h and Rivière.
Excitement!
Winners announced Sunday evening!


FURTHER READING